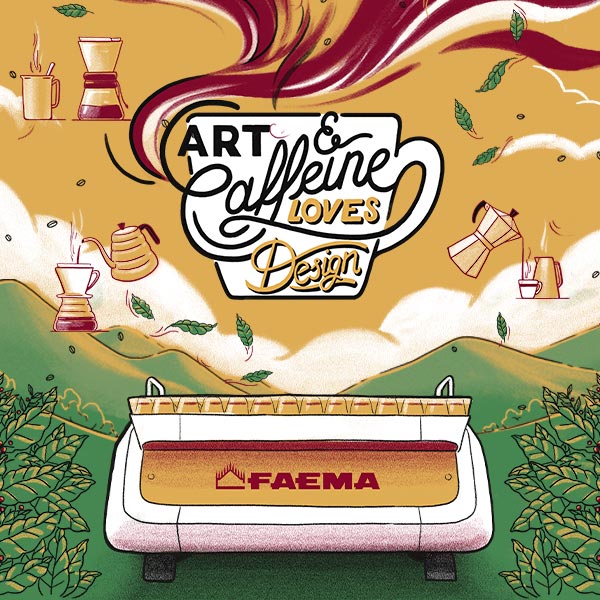 Faema – The Coffee Experience Week
9 April - 14 April
10:00 AM - 07:00 PM
via forcella 7, Milan
Art&Caffeine loves design!
In the heart of the Fuorisalone, as part of Tortona Design Week 2019, there will be a unique opportunity to taste the finest coffee blends prepared with our E71E.
Experience the wonders of new and more traditional extraction methods, from classic espresso to moka, Aeropress and V60. Let your curiosity run wild and enter the world of microroasters and their coffee stories.
See you at the Faema Flagship Store in Via Forcella 7! 😉
Specifically, we will be organizing the following activities:
☕ From raw coffee to espresso: coffee's journey from countries of origin to extraction.
Everything relating to the coffee supply chain, from the plantation to the cup.
☕ Brewing Lab
You will be able to learn about and try out different extraction methods: from the Aeropress to the V60, Chemex and Syphon.
☕ Moka Lab
In collaboration with E&B LAB, we will give some simple, but important tips on how to always make a perfect, high-quality coffee with your moka pot at home.
☕ Espresso coffee from past to future
We will present the legendary Faema Saturno, launched in 1950, one of the most fascinating lever machines ever produced. We will retrace the history of the coffee machine, from its origins to the present day: a journey through time that will end with tastings of coffee made with the E71E.
Hosted by Enrico Maltoni.
☕ Coffee experience
On Saturday and Sunday, we will offer high-quality espresso, strictly without sugar 😉
📅 Schedule:
(every day 10am-7pm. The activities will alternate over the course of the day in slots of 30 minutes)
[9 April]
– Brewing Lab
– From raw coffee to espresso
Roaster: ARC – Aziende Riunite Caffè
[10 April]
– Moka Lab
– Brewing Lab
Roaster: Coffee Hat and Torrefazione Griso
[11 April]
– From raw coffee to espresso
– Moka Lab
Roaster: Lot Zero with SpecialtyPal
[12 April]
– From raw coffee to espresso
– Brewing Lab
Roaster: Il Manovale with SpecialtyPal
[13 April]
– Espresso coffee from past to future
– Coffee experience
Roaster: His Majesty the Coffee
[14 April]
– Espresso coffee from past to future
– Coffee experience
– 3pm – 6pm:
AGipsyinthekitchen Special Event: take a break with coffee cake, coffee in good spirits with Rossella, floral compositions with eucalyptus, coffee flowers and leaves, coffee illustrations, and a mini naked coffee cake workshop.
Roaster: His Majesty the Coffee
back